Infrastructure
Our environment is designed with the goal of facilitating the developmental & emotional growth of children starting from 2 years of age. We aim to nurture the child so that they grow to become independent, with a desire to explore the world and understand it to the best of their ability.

The adult to child ratio is the best compared to any school in and around Chandigarh.
Campus
Located on approximately 2500 sq yards , Sanawar Montessori School provides a wonderful physical environment to meet the educational needs of our children. Our school environment includes spacious smart classrooms, a fully equipped library, a Montessori room, and Computer lab ,Splash pool ,sand pool . SMS is associated with many sports like table tennis, badminton and taekwondo.
Classrooms
Each classroom at Montessori World School is especially designed to meet the developmental needs of all of our children. Classrooms are carefully prepared learning environments, with opportunities for exploration and use of the senses.

Each classroom is dynamic and meets the changing needs of each student. New materials and concepts are introduced frequently to encourage physical, emotional, and intellectual growth.
Library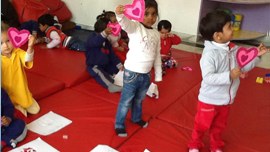 With thousands of titles to choose from, the school library offers a full selection of picture books, early readers, chapter books, fictional books, reference titles and various other resources.

The library is open from 8:30 AM to 3:30 PM on every school day. Each family has borrowing privileges and there is a large section on parenting topics and information on Montessori philosophies. Each student, from kindergarten through elementary has their own library card (kept in their classroom) and may borrow books when they come for library time.